SGSTfb [+12/0n/-0]
Personalfb [+17/0n/0]
UPDATED WITH BALENCIAGA INSPIRED MOTOR BAGS AND TOMS
ITEMS ARE INCLUSIVE OF POSTAGE UNLESS STATED OTHERWISE
PRICE IS PERFECTLY NEGOTIABLE

CLICK HERE (heyitsmesally.livejournal.com) FOR BALENCIAGA AND TOMS!
Fuji Instax Mini Films (Plain)
1 box, 20 pcs
Waiting time: 10-15 days upon verification of payment
$21 mailed
Maybelline Pure Mineral Powder Foundation

Brand new
B02 Natural Beige Ochre

$16

Maybelline Pure Mineral Blush
Brand new
C01 Gentle Pink
$15
Alice Dress In Pink

Brand new
Free Size. 17" by 31" / 43cm by 79cm
Chiffon Material, features front V-neck
Mid Ruched Design
Pair with waist belt to further accentuate your figure
Slight hood-like @collar area, can be adjusted (bend it down or flap up)
P
erfect for casual/corporate styles!
$22

Chanel Tweed Inspired Mid-Waist Shorts in Brown

Brand new
Free Size. 13" by 14" / 33cm by 36cm
Cotton Material
Elasticized sides for stretchability

Re-tie-able front sash (non-detachable)
Mid-Waist Cutting
$20
Crotchet Sundress
Brand new
Free Size. 12" by 29.5" / 30cm by 75cm
Chiffon Material. Inner satin lining for extreme comfort
Elasticized Lace Trimming Straps
Crotchet Details at front
Delicate Chiffon trimmings at dress end and back of dress

$23
Classy Maxi Tube Dress In White

Brand new
Free Size. 9" by 49" / 23cm by 119cm
Soft Cotton Material, extremely comfortable and soft on skin
Banded at mid-chest area for stretchability
Gathered, slight-draped front design at chest area
Pair with thick/thin waist belt to further accentuate the figure.
The classic maxi tube dress for all occasions
$27
Korean Dress in Pastel Pink

Brand new
Free Size. 12" by 32" / 30cm by 81cm
Chiffon Material
Features slight crotchet design at front area
Stretchable waist band
Ruched mini design nearing sleeve end
Inner lining, not sheer. Sweet piece for all girls!

$22
Korean Princess Crotchet Dress In Pastel Pink

Brand new
Free Size. 11" by 26" / 28cm by 67cm
Chiffon Material .
Features crotchet design @ collar, sleeve's ends & bottom area
Stretchable at mid-chest area
3/4 sleeve, features 3 non-functional pearl-like buttons
Sweet, dainty piece for all girls
$22

Tie Dye Ruffled Tank In Purple

The subtle tie-dye and different lengths in the front and back also adds funk to this back-to-basic top
Very suitable for school and a casual day to the beach or just chilling over the weekend
Sweet and girly and different from the normal tank tops
Oh-so-pretty and of extremely good material!
Fully lined and not sheer at all!
ptp 12" (lay flat) down 22" (front) 26"(back)

$15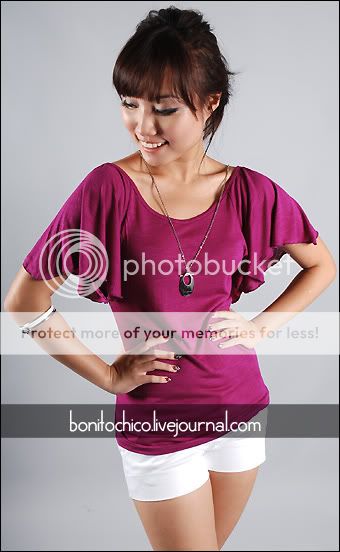 Angel-Sleeve Burn Out Top In Plum
This top is a next staple in your wardrobe!
Comfortable and extremely flattering, it's great for any day out
Made out of quality burn-out material; very slightly sheer
Measures 14.5"-16"PTP, 25"down

$15
BC Cool Blue Top
Another love at first sight for the girls!
We all had a hard time choosing which to keep!
Yummy and warm hues for the summer!
Extremely flattering cut that is well designed to show off those womanly assets!
Versatile and easy to throw on!
A definite head turner and must have!
ptp 13" to 17" down 24"
worn once
$15
Unique laced sleeves add a touch of sexiness to this structured number.
Versatile and very elegant. Go from dinner dates to parties after.
Made of good quality slightly stretchy cotton and rayon.
ptp 14" to 17" down 31"
$18



Satin-Waisted Frock In Purple
This piece is another hot favourite among us!
Love how flattering the thick satin band is & it makes the waist look smaller!
Top is made of quality viscose, bottom is made of mesh for the can-can effect
Measures 13" to 16'' PTP, 32.5'' Down - FITS UK 4 - 8
$21




Real Matte Lipstick PP401
BNIP
$5




NOTE: THE DRESS IM SELLING IS CREAM IN COLOUR
Eva
$10
Robotninjas' Mylie
$11
Crocs Prima Ballet Slip On
Peacock Blue
Size 7
worn once
click
here
for more info
$17




Topshop Necklace
bnwt
heavy, good quality metal
$10




Veet Hair Removal Cream (For Dry Skin)
Selling the one in green
Left 70%
$5
Leave a comment or email to
heyitsmesally@hotmail.com